Rare Et Splendide Flacon De Parfum Ancien A Decor D'angelots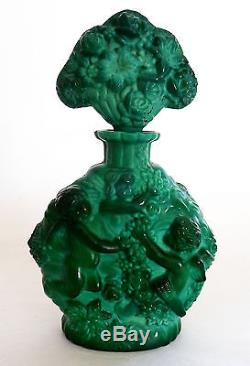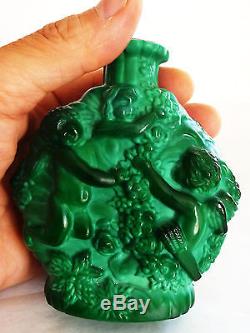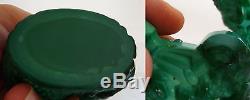 Splendide flacon de parfum ancien vert améthyste d'une hauteur de 15,5 cm, ce flacon d'époque art déco est en très bon état de conservation, magnifique décor en fort relief de trois angelots dans un parterre de fleurs, très gros bouchon a motif floral. Ce flacon à été créé par la Curt Schlevogt company, il est référencé dans le catalogue de l'époque. Ce splendide modèle est en parfait état, pas d'éclat ni de fêle, je pense qu'il à certainement été meulé sur les angles du gros bouchon, cela ne se voit pas, regardez les photos, c'est insignifiant. This green opaque malachite glass bottle was made in Czechoslovakia in the 1920-30s era by the Curt Schlevogt company. The base is moulded of roses and leaves with 3 angels. The stopper shows a beautiful basket of flowers. Perfectly moulded to show the light & dark green variations of the malachite stone it mimics. No chips, only the corners of the hugfe stopper was probably grinded, please see photo, it's really nothing. Wonderful peace referenced in the Curt Schlevogt Company catalog. The American-born entrepreneur Curt Schlevogt established his own company focusing on exporting Jablonec pearls in 1928. In the following years, however, his enterprise also began intensively pursuing the production of artistic crystallery (minute applied glass objects made by molding or blowing). This was probably caused by his son, Henry Günther Schlevogt, who widely participated in introducing this type of production in the Jablonec export company A.
As its representative in the United States. The collection was open and gradually received new patterns.
The most impressive ones from the artistic aspect were the result of the companys collaboration with leading artists as were, for example, Ladislav Penosil, Zdenk Juna, Frantiek Pazourek, Artur Pleva, M. The collection was initially dominated by toilet and flacon sets and later also by smoking implements, glass sculptures, vases, lamps, liquor sets, devotional articles and minute glass objects. The company gained fame and favor of glass lovers mainly by fashionable glass materials jade, jade turquoise and lapis lazuli from which significant part of the collection was mould in the Josef Riedl glassworks in Polubný. Supreme example of artistic endeavors of the Schlevogt company was its catalogue Artistic Crystallery Ingrid [Umlecká krystalerie Ingrid], which included figural sculptures awarded by Grand Prix at the 1937 World Exhibition in Paris.
It also presented small matted crystal figures, mould toilet sets with full-surface decoration and modeled plugs in jade and lapis. Amongst conventional models, referring to Art Nouveau and Rococo in style, dominated Functionalist designs or, eventually, variations in Art Deco style and designs by Bruno Mauder (vases, jars).
The successful development of the company was halted by the Second World War and the ultimate stroke came with its nationalization in 1945. Merci de lire les conditions de vente.
Le règlement doit être effectué sous huitaine. As with all vintage items, they are not perfect because they have been used or treasured for many years but we will try our best to describe it. Do take notice of our pictures because they are part of the description and on the condition as well. Ancienne rare old vintage rare czech perfume baccarat lalique viard. L'item "RARE ET SPLENDIDE FLACON DE PARFUM ANCIEN A DECOR D'ANGELOTS" est en vente depuis le vendredi 25 mai 2018. Il est dans la catégorie "Collections\Parfums\Flacons". Le vendeur est "maxlilirose" et est localisé à/en Chez moi.
Cet article peut être livré partout dans le monde.

---